Downsizing in style… beach at your doorstep… support at your fingertips!
Capecare Dunsborough provides the best of both worlds – spacious stylish apartments for independent retirees, and a residential care facility for the rapidly-growing Dunsborough community.
Innovative design and technology are helping to create an appealing and vibrant community hub, in harmony with the natural environment, connecting residents with the wider Dunsborough community and enabling them to live well as they age.
21 Independent Living Apartments with their own entry off Armstrong Place allow residents to live independently, with the knowledge that supporting resources are readily available when required.
An 80-bed residential care facility caters for people with high physical needs in a dementia-enabling environment.
Capecare Dunsborough also incorporates a new base for the Dunsborough Branch of the Country Women's Association.
Located within easy walking distance to the town centre, shops, cafés, medical facilities, Country Club and Geographe Bay, Capecare Dunsborough is nestled in a natural environment that maximises the availability of outdoor space and overlook the adjacent nature reserve.
The Capecare Dunsborough facility includes spaces for social events including a cinema, visiting health specialists, hairdresser, café and communal outdoor areas.
To find out how you can secure a place at Capecare Dunsborough in an independent apartment or in residential care, please complete the form at the bottom of this page or call Sarah Roberts on 08 9786 5555 or 0448313092, or email her at sarah.roberts@capecare.com.au for both independent living apartments and for residential care.
Independent Living Apartment expressions of interest are open, and viewings available.

Each single -level apartment has 2 bedrooms and 2 bathrooms, some with studies. They are serviced by 2 lifts and separate stairs. The apartments have a dedicated entry off Armstrong Place and secure parking.
All apartments have an outlook onto peaceful bushland, and the upper levels have ocean views. The Sky Lounge, the rooftop communal area for Independent Living residents, has magnificent views of the Bay.
Capecare is offering a life lease arrangement for prospective apartment residents. When you enter into a life lease agreement you purchase the exclusive right to occupy an apartment at Capecare Dunsborough for 49 years, or until you are no longer capable of living independently in the apartment.
A life lease offers you a security of tenure for your apartment, which means that you can stay in your home until the life lease agreement ends. Your life lease grants you access to our common facilities and services and the guarantee that you will be sharing those facilities with people of a similar age group.
PLEASE NOTE: THERE ARE ONLY 3 APARTMENTS THAT REMAIN AVAILABLE FOR LEASE.
For further information please contact Sarah Roberts on 08 9786 5555 or 0448313092, email sarah.roberts@capecare.com.au, or fill out the form below and we will be straight back in contact.

A portion of Dunsborough's Armstrong Reserve was gifted to aged care by the State of Western Australia and in November 2003, the City of Busselton passed a motion to "support the need for land to be set aside for age care facilities within the urban area or close to Dunsborough Township as a vital part in strategic planning for the community in the western sector of the shire."
Capecare welcomed the decision by the Southern Joint Development Assessment Panel (SJDAP) in November 2018 to grant the Development Approval for the project. There were a number of conditions associated with the approval resolution that Capecare worked through with Architects Gary Batt and Associates, and the City of Busselton. The project's working name was Armstrong Village.
The building tender was awarded to Perkins Builders, and construction commenced October 2019.   Read the Media Release. Building was completed in July 2021 and Capecare is now operational. When at full capacity Capecare Dunsborough is expected to employ about 60 people. An official opening will take place in September 2021.
The project is made possible thanks to funding from both the Federal Government's Building Better Regions fund and the State Government's Regional Aged Accommodation Program.
Open Day – 29 & 30 July
Dunsborough's first fully-integrated aged care facility is now complete and ready to welcome its first intake of residents!  Before they arrive, we'd love to give you the opportunity to tour our beautiful new premises.
Dates: Thursday 29 and Friday 30 July 2021
Time: 2pm to 5pm, Guided tours on the half hour
Location: Capecare Dunsborough, 171 Naturaliste Terrace, Dunsborough
RSVP: Please RSVP so we can manage visitor numbers to: rsvp@capecare.com.au with your preferred day and time.Visit the Residential Care Facility, view an Independent Living Apartment and check out Dunsborough CWA's new HQ.
Window art celebrates Capecare Dunsborough's natural surrounds >
A beautiful series of stained-glass feature windows celebrating local wildlife and flora will be a feature of Capecare Dunsborough's residential care facility when it opens mid-year.
 Perth Art Glass was commissioned by Capecare to create a three-panel stained glass artwork reflecting the local natural environment. It features flowering gums, eucalyptus and black cockatoos.
Bespoke Australian-made furnishings in Residential Care fit-out
Interior fitouts of our Independent Living Apartments and Residential Care Facility are in full swing and we are excited to see years of planning come to fruition.
Australian manufacturer and designer Crown Furniture is busy creating bespoke pieces for our Residential Care rooms and common areas. They've drawn on their years of experience working in aged care and know the measurements that work best, the support required and the best styles for older people.
Call out to cape-to-cape visual artists
With Capecare Dunsborough nearing completion and the focus moving to interior finishes, Margaret River Region visual artists are invited to add their creative flair to the new fully integrated aged care facility.
Capecare will acquire a number of works from local artists to be displayed throughout the residential care building's internal spaces for residents, their families, visitors, staff and the local community to enjoy.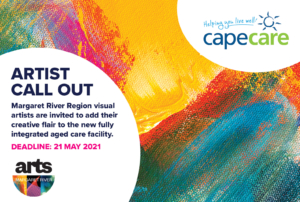 Murals complete
Renowned WA visual artist Kyle Hughes-Odgers has added some creative colour to Capecare Dunsborough, completing three huge exterior wall murals – two 18metre high stairwells and a large two-storey curved entry wall.
His inspiration has been local nature, referencing the colours of small coastal plants and rocks, but presenting it in a more modern way. "The front wall is the hero work, and is a lot more detailed. It includes images of vegetation, birds and fish. Some of the icons I've painted on the stairwells have been used in a smaller scale on the entry wall so they compliment eachother. I've really enjoyed working on this project as the brief wasn't too prescriptive and left it open for my interpretation. It's the way I most like to work," he said.
Capecare CEO Elizabeth Hogarth said she was delighted with Kyle's work and there were many positive reasons for including public art in the Dunsborough independent living and aged care facility. "As an organisation committed to multigenerational engagement and inclusivity we felt that artwork being incorporated into the project offered an opportunity to lighten the spirit of people living at Capecare Dunsborough, as well as those entering and visiting," she said.
"We understand that human interactions are vital to the wellbeing of our clients and we want to encourage positive interactions and conversations. We see the work being created by Kyle as an opportunity to create conversation. It was important for us to give the artist creative scope, with an understanding of who we are and how the spaces at the Dunsborough site would be used. The main entry statement artwork will be seen from the outdoor green space between what will be the cafe and the new CWA headquarters. We hope it will evoke smiles for residents, families, visitors and our staff."